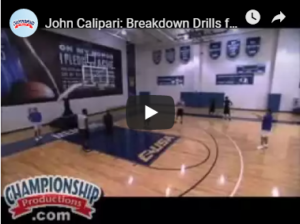 This is a short video of John Calipari putting some players through a transition and conversion drill.
Make sure your sound is on as you watch.
He runs it a little differently than the traditional stop at the free throw line.
I have also experimented with running the shooter to the ball side corner in 3 on 2. That way he is away from the rest of the defenders converting down the middle of the floor.
I like the idea of experimenting with new ideas a couple of times a week in practice for 5 to 10 minutes.
Calipari 32 Transition/Conversion Drill
Click the play arrow to see the video.
You can also click this link to see more information about or to purchase the entire DVD "John Calipari: Breakdown Drills for the Dribble Drive Motion Offense"