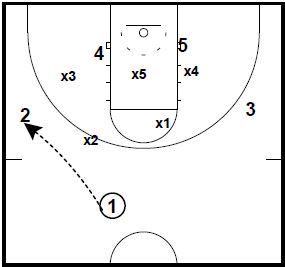 A couple of ideas to look at for your zone attack for next season.
I believe that it is a good idea to start thinking about the types of sets that you are looking at running next season.
That way you can fit the types of shots that your players are taking in the spring and summer into those schemes.
These plays are from Wes Kosel's Playbook "Best Zone Sets from the NCAA."
It is paired with Coach Kosel's NCAA Man to Man Sets Playbook as this week's featured eBook Bundle. You can find out more here: Best NCAA Man to Man & Zone Sets Bundle
Diagrams created with FastDraw
VCU Zone Drag Runner
1 passes to 2 on the wing.
1 runs to the right corner.
4 steps to the elbow and 5 drags out of the zone.
2 passes to 5 who passes to 3.
3 dribbles left pushing 5 over and 2 to run the baseline.
3 passes to 1 filling to the wing.
If the bottom zone defender has to closeout on the wing, the corner shot is open for 2.
Kansas Zone Hook
2 cuts across the floor off of a double-screen from 4 and 5.
Once 2 clears the screen (bringing the bottom zone defender out to the corner), 5 screens the middle zone defender as 4 flashes up the lane line for the ball.
1 passes to 4 for a shot.
These plays are from Wes Kosel's Playbook "Best Zone Sets from the NCAA Season." It is paired with Coach Kosel's NCAA Man to Man Sets Playbook as this week's featured eBook Bundle. You can find out more here: Best NCAA Man to Man & Zone Sets Bundle