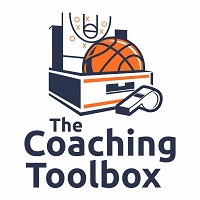 This post was written by Bert DeSalvo on his Basketball Coaching Blog, Expressions from the Hardwood
Earn the Right to Win
Tom Coughlin
Notes taken by Bert DeSalvo, @CoachDeSalvo
Introduction – Prepare to Win
"Achieving any goal begins with through preparation." (p. 2)
"Having a structure to rely on means that when my teams have reached our goal, we can look back at the steps we took along the way to get there. And do it again." (p. 3)
Can repeat the process!
Schedules, lists (lists of lists)
Systematic approach to success
"Preparation creates confidence." (p. 6)
"Details count." (p. 9)
"There is no discussion about methods. The team is my responsibility." (p. 10)
Nobody is above the team – Follow the rules
Rules provide a framework
Chapter 1 – Build the Structure
A. Set a Goal
"My basic philosophy has always been simple and direct: Create an environment and provide the direction necessary to allow our players to perform to the best of their ability, which will lead directly to success." (p. 17)
"Creating a structure in which winning is the expectation rather than the hope is a long-term proposition." (p.17)
"The important thing is to make progress, recognize these needs that have to be addressed, and make a plan to do that." (p. 17)
"Once you establish your goal you can't take your focus off of your objective." (p. 18)
Sends wrong message
Competition
B. Know What You Have to Work With
"The best place to begin your preparation is to honestly assess the existing situation: How deep in the mud are you? What is the current status of your organization?" (p. 21)
Starts with critical self-appraisal; Don't blame others – "We can't improve without realistic self-appraisal." (p. 22)
What's your situation?
– RIT/Jax – Blank Slates
– Boston College/NY Giants – Losing Teams
Coughlin saw NYG as a loss of pride
– His goal was to restore pride "by being firm, fair, honest and demanding and by paying close attention to our preparation." (p. 24)
C. Create a Structure
Establish priorities (Coaching, staff, roster, etc.)
"Create an overall culture that would govern everything." (p. 24)
– Philosophy ensures consistency of purpose and action  "Allows us to move forward together." (p. 24)
Coughlin's Philosophy:
"Structure and organized. A program in which everyone knows their responsibilities and that they will be held accountable for the job they were hired to do. It isn't complicated; it's pretty much black and white: This is how things are going to be done, and if you can't do it this way, we're going to find somebody who can." (p. 26)
"Consistency, reliability, and determination guarantee progress."
Need buy–Consistency provides this
Know expectations–Explain them clearly
Have confidence–Structure will not change
"The Structure is a statement: This is who we are, this is what we do, and this is the way we do it." (p. 27)
"Once you've set up a system with clear goals you also have to make a commitment to consistency." (p. 27)
Stick to it – Even under duress
To make it work you must stay the course (after setting a goal, assessing the situation and building a system)
D. Establish the Rules and Enforce Them
"The culture of an organization is defined by its rules." (p. 32)
Must be sensible, realistic and timely
Clearly stated–No gray areas – "Everything needs to be spelled out, with no room for interpretation." (p. 33)
Have other purposes too
– "Designed to bring the team together, create a professional atmosphere/environment in which we can get all of our work done with a minimum of distraction, and help develop pride in the organization." (p. 33)
Setting rules helps you find out who is committed to the program and who isn't
Examples of Coughlin's Rules:
Be on time every time
Know your assignments of the field
Conduct yourself like a professional on and off the field
Demonstrate pride in our organization
Respect your teammates
Pay complete attention in our meetings
"When I set the rules I always felt it was better to start out with a firm set, and then, if the situation warranted it, make the necessary adjustments." (p. 34)
"As a leader, your credibility depends completely on the way you enforce the rules you've made. For them to have any value, they have to apply equally to everyone." (p. 37)
"The day you don't enforce your rules you might as well just do away with them." (p. 38)
"When you don't enforce the rules, people begin to lose respect for you." (p. 38)
"If you are in a leadership position in any organization, in any job, and you compromise principles the first time you face adversity, you'll lose all your credibility." (p. 40)
"Once again, 'earning the right to win' means making a difficult or even unpopular decision and sticking to it." (p. 40)
"The principles and values that form the cornerstone of our beliefs cannot be compromised." (p. 40)
E. Be Resilient
"There will be times when we all have to overcome adversity – but we believe adversity makes us stronger." (p. 41) (i.e. injuries = 'next man up')
"If you manage to overcome that many obstacles to your goal, you have earned the right to win." (p. 45)
F. Build an Organization with Character
"The key to building a system that functions smoothly is to find people who share your vision, hire them, and allow them to do their job." (p. 45)
Have to hire people who will carry out your vision/philosophy
The better your people, the better the organization will be
"The success of the program will rise or fall on the ability, initiative, imagination, and determination of the members of our staff." (p. 46)
Coughlin looks for:
Great All-American work ethic
a. Know the demands of the job
b. Go beyond this!
Commitment (players move to Jax – Means all in!)
3. Enthusiasm
"Character-based, valued centered philosophy has always been the backbone of my organization." (p. 47)
"Character is essential." (p. 50)
Coughlin conducts interviews w/free agents, coaches, draftees to get to know them as people
"You want to work with dedicated people you can depend on to be there when things get tough. The more of those good character people you have in key positions the better chance you have to succeed." (p. 51)
"Character also accelerates the growth of talent." (p. 51) [JPP]
"We find the complainers and the whiners, the people who aren't willing to put in long hours, the people more interested in self-promotion than the success of the team and get rid of them as quickly as possible." (p. 53)
"Sometimes you just need to get rid of a bad apple. Cutting those people really will cut your losses. Anyone who is serious about building a long-term program has had to do this." (p. 54)
"No one is irreplaceable." (p. 55)
G. Delegate Authority
"A successful coach or manager delegates responsibility and allows people he/she trusts to do their job." (p. 56)
Ultimate responsibility is on the head coach though.
You can read inside the book by clicking on the image at the left.
You can read the rest of Coach DeSalvo's notes at this link: Earn the Right to Win