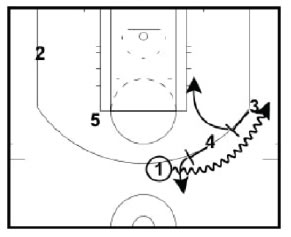 This play comes from an previous St. Edwards University newsletter.
St. Edwards is an NCAA Division II school located in Austin, Texas.
Quick hitter vs. man to man defense.
This is a set originally run by the Orlando Magic.
It is an excellent set to get a quick shot or isolation for 2.
The double ball screen creates an overload on the right side of the floor occupying the help defense.
#1 Dribbles off a double ball screen set by 4 and 3. 4 pops and 3 rolls.
1 reverses the ball to 4 while 5 locates 2's defender and sets a hard screen to get 2 open for a jump shot or isolation.
4 hits 2 coming off the screen.
St. Edwards' Head Coach Andre Cook's three points to consider when defending a ball screen:
1) Who has the ball?
2) Who is setting the screen?
3) At what angle is the ball screen being set?
We have posted several other diagrammed plays, animated basketball plays, and videos of basketball plays
There are a couple of sample videos below of more plays involving on ball screens. You do not need to purchase anything to see them.