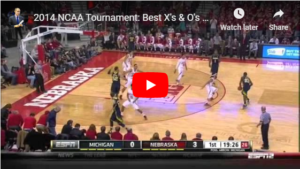 Main Men's Assistant Zak Boisvert has assembled some of his favorite offensive sets from the 2014 NCAA tournament.
His You Tube channel has 58 videos with various types of man to man plays, zone sets, and inbounds plays.
You can subscribe to receive an update when he posts a new vid Zak Boisvert You Tube Channel
He also is also very active on Twitter: @ZakBoisvert
Coach Boisvert has also diagrammed the plays from the video and has provided a download link to the pdf. You can download the pdf here.