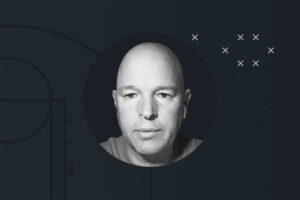 NHSCA Coach of the Year Dave Flom and the Eden Prairie high school (Minn.) coaching staff maximize the value of Hudl to hold players accountable and help the Eagles soar.
Dave Flom has built one of the nation's most revered basketball programs at Eden Prairie high school. In his first 14 seasons, Flom compiled a 331-118 record (73.7%) and earned NHSCA Coach of the Year honors for an undefeated 2019–2020 season.
He guided the Eagles to a 28-0 record and a spot in ESPN's top 10 national rankings before the COVID-19 pandemic cut short their postseason run.
Flom says video and stats have played a big role in the Eagles' success. He uses these tools to thoroughly scout opponents while also giving direct feedback to athletes.
"The reality is, Hudl was very instrumental in our success," Flom said. "We use so much data information, specifically in our scouting of opponents. We felt that we were better prepared than we've ever been before."
Eden Prairie signed on with Hudl for an athletic department package—which provides every sport or club a Hudl subscription and includes Hudl Assist and Hudl Focus. 
Flom and the Eagles' coaching staff have data to thank for their success. They take full advantage of the unlimited breakdowns that come with their subscription—in fact, they use Assist more than almost any other program using Hudl for advanced stats.
But simply having data isn't enough—turning stats into a game plan is key, and Flom says Hudl Assist makes game planning with data quick and painless. 
Eden Prairie competes in Minnesota's 4A Section 2 Conference where it's common to square off against some of the top players in the state, if not the country. In preparing to defend a McDonald's All-American, Flom said stats were pivotal in determining how to shut him down.
The result of that game was a 25-point win for the Eagles, who held the All-American to 22% from the floor, including just one for 10 from deep.
Flom doesn't just apply this data-centric approach to his competitors. In addition to a meticulous scouting report, he uses video and data to correct mistakes and hold athletes accountable for their decision-making. 
The key stats he stresses to his team are points per possession, assist to turnover ratio and effective field goal percentage.
Their points per possession (PPP) differential is a staggering 0.31. The Eagles' efficiency on both ends of the floor was among the best in the country, making it easy to understand why their average margin of victory was 20 points per game.
The assist to turnover ratio compliments the PPP metric because it evaluates a team or individual's overall decision-making. More assists, fewer turnovers, better ratio. 
Similarly, effective field goal percentage (eFG%) highlights how efficient a team is shooting the ball. The Eagles are exceptional at finding the open man on offense and disrupting their opponents' rhythm. This explains the 14 percentage point edge for Eden Prairie.
By determining which stats inform their offensive and defensive philosophy, Flom can easily pinpoint impactful video for his athletes. This attention to detail has made the Eagles into a perennial state title contender.
Because of the consistent direction and focus of video and data together, his athletes don't just expect blunt feedback, they welcome it.
"We watch a ton of film," senior guard Will Foster said. "I love it."
Foster is committed to playing Division I lacrosse for Marquette University next year. But for now, he's one of three senior leaders looking to sustain the level of success Eden Prairie achieved in recent seasons. 
In his time under Flom, Foster has come to embrace video as a key to success. As a freshman, Foster admitted he paid more attention to the highlight plays when watching video. But Flom's film review sessions three times a week quickly conditioned the guard to seek out learning opportunities.
"Now I use it, not to watch us, but more as a learning tool," he said. "It's something you can really use to better yourself."
Foster prides himself on defense, works hard and puts the team first. He's the kind of player coaches dream of, Flom included. But as the saying goes "film doesn't lie," and Foster expects to be held accountable when it comes time for film review.
"[Coach Flom] pretty much has an 'I'm going to tell you the truth, and there's no ifs, ands or buts,' approach," Foster said. "He'll point you out and say 'you lost focus' or 'this wasn't quick enough.' So he's pretty transparent with us."
That feedback, presented in both team and one-on-one settings, helps players know their strengths and weaknesses. By preaching the importance of stats like assist to turnover ratio and effective field goal percentage, players know how their actions on the court contribute to the team's success on each possession.
And when every player is clear on their role and how their actions contribute to the team's performance, success is inevitable.
For a closer look at how Coach Flom uses Hudl to keep the Eagles at the top of their game, check out his Hudl Chalk Talk.