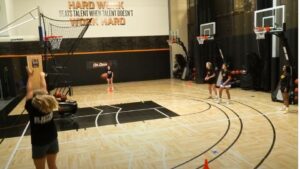 A short video from our friends at Dr. Dish Basketball.
The coach presenting in this video is Special Jennings, Head Girls Basketball Coach at Montverde Academy in in Montverde, Florida.
The drill is a great drill to work on developing the ability to make shots when your players are tired.
To win part one of the Nugget Drill, the players must make 3 shots in a row. If they miss 2 in a row, they run a down and back. They are sliding from the wing to the corner.
In part 2, players sprint into a shot from half court with the same rules for the drill–make 3 in a row, you win, miss two in a row, you run a down and back and start over.
Click the play arrow to view this YouTube video.