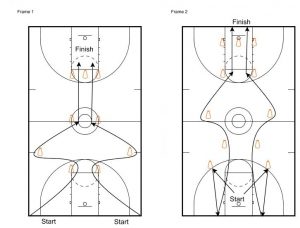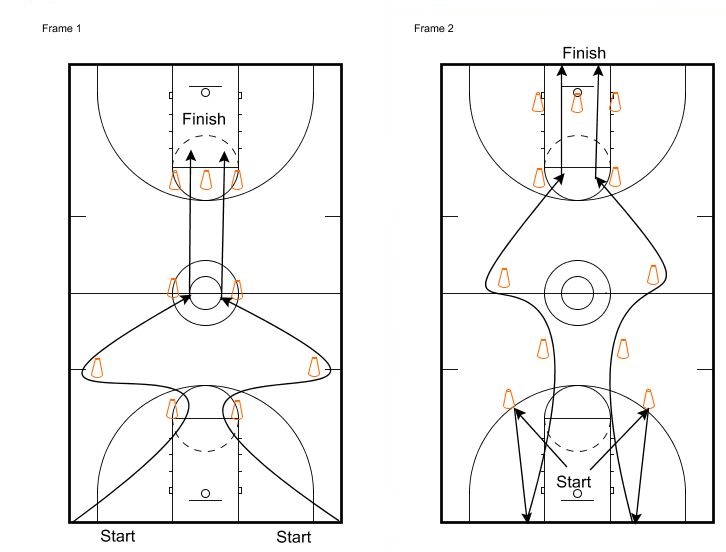 By Jon Sanderson MS,CSCS,MSCC,USAW1,TPI,NASM-CES
Head Strength & Conditioning Coach
Michigan Basketball
Below are 4 of my favorite agility drills that emphasize a competitive environment.
The first thing I do is pair up my athletes by size/speed.
For example, I want my point guards competing against each other or my bigs going against each other.
The paired athletes will line up opposite each other and essentially race each other to the finish line.
The race begins on the coaches command.  (Note that agility drill 2 and 4 begin with a close-out drill).
Diagrams created with FastDraw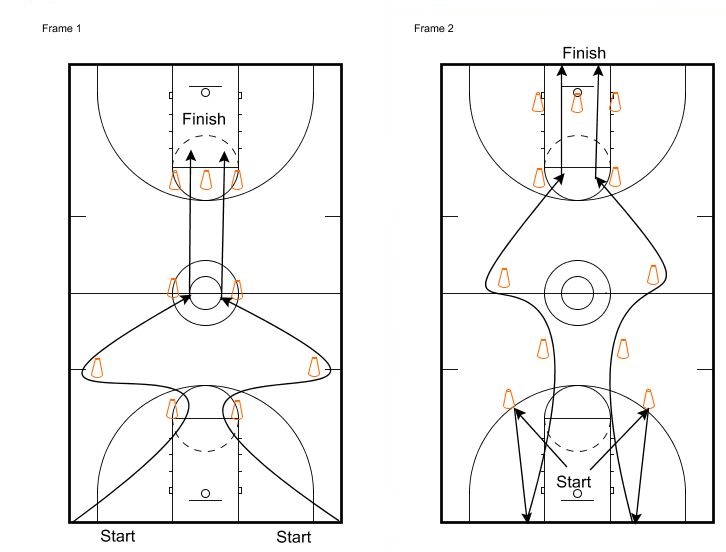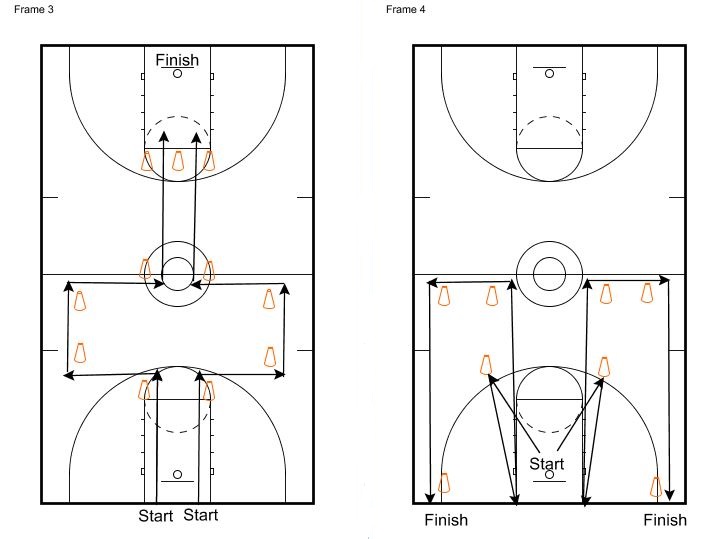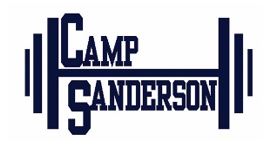 If interested in the Camp Sanderson S&C program powered by Blueprint Athletes App
Apple Phones   https://apple.co/2FYcJ00
Android Phones   https://play.google.com/store/apps/details?id=com.blueprintathletes.android
Jon Sanderson has been the head strength and conditioning coach for the University of Michigan men's basketball team since 2009.
Regarded as one of the basketball strength and conditioning coaches in the business, Sanderson is the only strength and conditioning coach in NCAA history to participate in a Final Four as a player (Ohio State in 1999) and a coach (Michigan in 2013 & 2018).
Before joining the Michigan staff, Sanderson spent three years (2006-09) working at Clemson as the men's and women's basketball strength and conditioning coach, as well as the director of the Littlejohn Coliseum weight room. During Sanderson's time at Clemson, the men's basketball team won 20 or more games for three straight seasons — a first in program history. Also, during those three seasons, only North Carolina and Duke had more wins than Clemson in the ACC.
Prior to his time at Clemson, he served as the head strength and conditioning coach and sports nutrition coordinator for Olympic sports at Marshall University (2003-06). Before heading to Marshall, Sanderson was a strength and conditioning intern at North Carolina, working with the men's basketball program (2002-03).
Throughout Sanderson's career with the U-M basketball program, he has trained 11 student-athletes that have gone on to play professional basketball in the NBA, including MDarius Morris, Manny Harris, Tim Hardaway, Jr., Trey Burke, Nik Stauskas, Mitch McGary, Glenn Robinson III, Caris LeVert, D.J. Wilson, Derrick Walton, Jr. and Moritz Wagner.