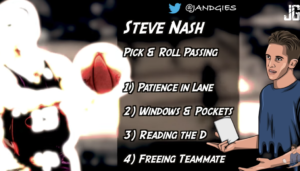 This video was sent to me by Jon Giesbrecht. Jon is currently an assistant coach with the University of Regina Women's program.
Jon is also an assistant coach with the 17U Male Provincial team for Team Manitoba (Includes National Championship 2013-14). In previous years, Jon spent two years with the University of Manitoba as an assistant coach, he was also the head coach of the John Taylor Collegiate Junior Varsity Boys team for four years.
To contact Jon, please email him at [email protected]
He has a Tweet from Steve Nash about the video below. Steve said:
"Very nice breakdown for pg's. Not just coz it's me ha. Well done @jandgies"
Jon;s Twitter handle is @jandgies
The video is a YouTube video, so please make sure that you are on a network that allows You Tube access. Some school networks may block YouTube access.
Click the play arrow to watch the videos.
There is sound with the video, but there is no narration.
"Editor's Note from Brian. I realize that 99.99% of the coaches viewing this page do not have and never will coach a player who is as good as Steve Nash. I also believe that no one will be able to apply all of the moves in the video. The purpose of this post and the video is to offer food for thought (even if it is only 1 technique or teaching point) for you to come up with ways to help your players to improve.