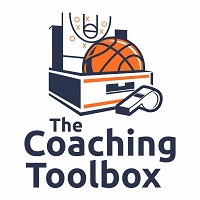 This post was written by Bob Starkey and shared on his Basketball Coaching Blog, HoopThoughts
Editor's Note #1 from Brian. When this article was originally posted, the Warriors were one of the top teams in the league. In 2019-2020, they have the worst winning percentage. I don't believe we should or shouldn't adopt ideas for our programs just because of where we get them. If counting passes is something you feel will help your ball movement, teamwork, and lessen dribbling, then you should consider if or how you can adapt it to your team.
Editor's Note #2 from Brian.  I am not saying that every college and high school team should set 300 passes per game as your standard for passing like one of the premier NBA teams does. I am offering this as a resource to think about ways to improve the ball movement for your team.  Maybe in a 50 possession high school game, you can set 200 passes as a goal.  If you do like this idea, you will need to determine the number of passes that is right for your program.
There was an outstanding article in the USA Today this week written by Sam Amick on the value of passing the ball for Golden State and it's incredible value to the culture of the Warriors.  You can (and should) read the entire article here.
I've long spoke about how you play being a big part of your culture.  Your system of play and it's level of execution says a lot about who you are as a coach and in turn your team as a unit.
The first part of that piece is practice.  The make up and execution of practice impacts players and how they feel about playing and their level of belief in how prepared they are going into a game.  On the collegiate level, recruiting often comes down in part of how a team plays.  On the professional level, free-agents will at times gravitate to a style of play.
In an era that becomes increasingly difficult to promote team play, to have one of the best teams in the NBA base their success on number of passes gives all of us coaches hope.
A few excerpts include the following:
"Ball movement will forever be superior."
-Shaun Livingston
Ever since Kerr made the move from TNT analyst to the Warriors bench, when he saw the glaring lack of ball movement in that final season under former coach Mark Jackson and told the team's ownership how he would fix it, this has been their ethos. So much so, in fact, that it all started with a magic number: 300.
Pass the ball at least that many times during the course of a game, he told them, and the offense will hum. For Kerr, who won five titles while playing for San Antonio's Gregg Popovich and then-Chicago coach Phil Jackson, these were the lessons learned that he had to pass on.
"If you have shooting — if you have great shooting — then the more ball movement the better, because you have guys coming off screens and … you want to make the defense have to defend for long stretches rather than just one pass and a shot," Kerr explained to USA TODAY Sports recently. "So we looked at the passing totals, and … (300) was a really key number for us.
"I just said I want the ball to move. That's always how I've seen the game, and if you have Steph (Curry) and Klay (Thompson) on your team and the ball is moving, it's fairly obvious that it's going to be hard to defend. So we just kind of came up with that number."
Amick backed his story up with the following facts:
◄After ranking last in passes per game (243.8) during the regular season before Kerr's hiring and finishing 12th in offensive rating despite already having three of their four current All-Stars in Curry, Thompson and Draymond Green, they have had the league's best offense in three of the past four seasons while finishing second in offensive rating once. During that span, the Warriors' passes-per-game mark has ranged from 306.6 to 323.5.
◄The Warriors' only two losses this postseason have come in the only games in which they passed the ball fewer than 300 times (256 against San Antonio in Game 4 of the first round; 295 against New Orleans in Game 3 of the second round). In all, they lead all playoff teams in passing (323.2; Rockets 15th at 227.5).
◄Green and Curry have been first and second among the Warriors, respectively, in passes made for the past three regular seasons.
As Green is quick to point out, passing alone is not enough. The Warriors at their best are like a basketball version of the Blue Angels, with players darting to and fro while stopping only briefly to set a few screens along the way. But when you combine the movement with the passing and some of the best scorers the game has ever seen, then push the tempo, it's the kind of thing even Kerr couldn't have dreamt of when he put this program into place.