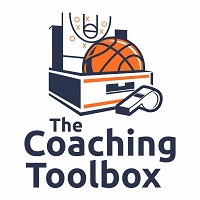 Lawrence Frank (former Coach Detroit Pistons and New Jersey Nets) – Defensive Concepts
I received these notes from Coach Steve Smiley.
"Your every day habits will determine your execution."
To play on a good defensive team you must:
a. be a good individual defender.
b. be a good team defender.
c. be both a & b.
** If neither, you won't play! **
Defensive non-negotiables:
1. Sprinting back on defense.
2. Protecting our paint.
3. Closing out hard and contesting the shot.
4. Playing aggressively without unnecessary fouls.
5. All five players blocking out and rebounding.
** No Layups
** No Freethrows
** No corner 3's
If the ball gets into the paint, what are the consequences for the offense?
1. Charge
2. Steal
3. Deflection
4. Blocked shot
5. Hard "NBA" foul
** Never mention anything about scoring!
Transition Defense:
1 back = Dunk
2 back = Layup
3 back = Jumper
4 back = Got a chance
5 back = GAME ON!
– Win the first 3 steps!
– Stop the ball above the 3-point line
– Get the ball out of the middle 1/3
– Think "help"
– Open shots beat you in transition, but mismatches rarely will.
"Accept who they are. Your job is to make them better than they were."
The Coaching Toolbox has hundreds of resources for coaching basketball including basketball practice, basketball plays, basketball drills, basketball quotes, basketball workouts, basketball poems, and more!