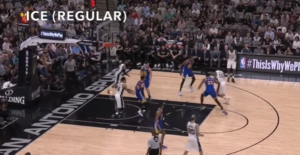 Army Assistant Men's Basketball Coach Zak Boisvert has put together some short clips with some NBA techniques for defending pick and rolls using a technique known as ICE to Switch Defensive Coverage.
Coach Boisvert has posted several videos of some of the better schemes he has seen. His You Tube channel is: Zak Boisvert You Tube Channel
He also is also very active on Twitter: @ZakBoisvert
He has an outstanding resource site for coaches. You can access it here: PickandPop.net
The videos are YouTube videos, so please make sure that you are on a network that allows YouTube access. Some school networks may block YouTube access.
The videos are from 2018 and Golden State's roster has changed. The idea of the post is to give you an idea for a defensive tactic that you might be able to use at some point. Or at least be aware that you might see it employed against you.
Click the play arrow to watch the videos.
Please make sure that your sound is on as Coach Boisvert has narration to go along with the video clips.
ICE to Switch Pick and Roll Coverage