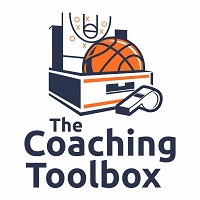 This post was written by Texas A & M Assistant Coach Bob Starkey and shared on his Basketball Coaching Blog, HoopThoughts
Editor's Note from Brian.  Even if you are able to practice and play games in the summer, there are several ideas here that you might be able to fit into what you do.
I'm a big believer that what a player and/or team does when the coaching staff is NOT around goes a long way into the success level of said player and/or team.  Discipline is about what you do when no one is around to watch.  Obviously, there is no bigger range that the summer months when on the collegiate level, we have no access to our players in regard to what they are doing on the court.
Keys to a good summer should include:
1. Commitment: The staff can make the gym available but it is up to the player and the team to make use of it.  During our Final Four run at LSU, the players would drive us crazy to open the gym for them.  Seimone Augustus would play 2 hours of pick up with the Lady Tigers and then drive across town and play pick up with a boys high school team.  Several of our players would head to the rec center to play with men after pick up.
2. Concentration: It is not enough just to walk in a gym and play.  The great players/teams go into each opportunity knowing there are specific things that they need to work on and they must have a high level of focus during pick to improve upon those areas.  Habits can be developed and improved upon in the summer –good ones and the bad ones — based on the commitment and concentration of the player(s).
3. Effort: The average player goes through the motions in pick up and in their summer workouts.  They will give a little effort at times but nothing consistent.  And that is largely why they are "average" players.
While we can't be there with them, there are ways for us to enhance the off-season process for the players.  The first thing is to meet with the players individually and the team as a whole and talk to them specifically about the areas that need to be worked upon in the off-season.
My suggestions would be to give each player something they do well and encourage them to continue to improve in that area.  John Maxwell talks often about how the great ones know what their strengths are and work hard so that it remains a strength.
Obviously you should also give them a couple of weaknesses to improve upon.  With some players, you might be able to list 7 or 8 things — don't.  Less is more.  Pinpoint a couple and challenge them to come back in the fall better in those areas.
Be specific in how they need to go about improvement.  It is not enough to tell a player to work on her dribbling with her weak hand in the off-season.  Give her some specific drills that she needs to do during the summer and how often you think she needs to do them to gain improvement.  We had one player at LSU that was a very good player but had a poor left-hand.  We gave her a list of drills to work on her game.  But we also told her she was not allowed to use her right hand in pick up — and we told her team this as well.  We wanted everything she did (other than shoot) to be off of her left hand.  Don't expect to tell a player to work on something and not tell her how.
Finally, you should be specific in what you expect to see in them when workouts in the fall start. Paint a picture of what you want to see and share that vision with them.  Part of this process should be follow up.
"How's the work on your left hand coming?"
"Are seeing and feeling any improvement?"
The other thing we did at LSU and now at Texas A&M was to create guidelines for playing pick up.  These not only applied in the summer but anytime during the fall and spring when we were out of season and playing pick up.  Obviously they need to specific to your philosophy and how you play the game.  These were typed on a sheet and placed in their notebooks and we went over them with the team in detail early in the fall and right before summer.
Here is what our guidelines at Texas A&M are for pick up games
1. ALWAYS PLAY MAN TO MAN DEFENSE
Good pressure on the basketball (even if you get beat on the drive)
Get a hand up on every shot
Make contact, blockout, and finish the possession
Get in the passing lanes
No switching
2. RUN OUR OFFENSIVE SETS
Spacing: High and Wide
Minimize your dribble usage
Take good shots
Set good screens to get your teammates open
No ball screens
No plays or entries
(This is also a great opportunity for your veteran players to teach your new players a few of your offensive sets)
3. START WITH HALF COURT GAMES
Even if you have enough for 5/5, start with a couple of half court games
Will help us to develop our man defense and offense principles
4. UTILIZE CONVERSION
After half court games, finish up with full court games
5. GET BACK ON DEFENSE
Even 4/4 games can be played full court
6. TAKE ADVANTAGE OF EVERY OPPORTUNITY TO PLAY
3/3, 2/2, 1/1
Play, play, play
7. BE A GOOD TEAMMATE
Encourage teammates
Upperclassmen teach our freshman how we play
Help freshman to understand offensive/defensive principles
8. PLAY HARD
Is there any other way?!
A few weeks ago I attended a Coaching Roundtable in Arlington, Texas with some very bright coaches from the collegiate and professional ranks.  One of the topics that was brought up was maximizing summer pick up.  Here are some of the things I took way from that discussion.
LET PLAYERS PICK THE TEAMS
Gives them a chance to know where they stand with their teammates.  Makes captains give thought as to who they think can help them win.
PLAY SHORT GAMES
Play to 7 or 8 points.  This creates a greater sense of urgency and can cultivate more intensity.
VALIDATE THE WIN WITH A FREE THROW
After a team gets to the point total needed to win, a player (selected by the losing team) must hit a free throw for the victory to be complete.  Otherwise another game is started at 0-0.
THERE WILL COME A TIME
WHEN WINTER WILL ASK,
"WHAT HAVE YOU DONE THIS SUMMER?"