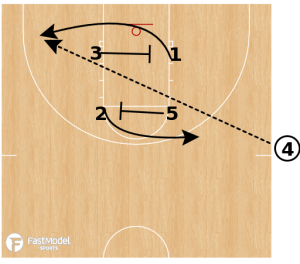 This play to run at the end of the game down 3 was contributed by Doug Brotherton to the FastModel Sports Basketball Plays and Drills Library.
You can also find out more about FastModel Play Diagramming software by clicking this link: FastDraw
This is what Coach Brotherton said about the play:
This SLOB set was used by Princeton in the 2017 NCAA Tournament. Down by 3, with under 20 seconds left, this set resulted in a wide open three point shot. I have added an elevator screen to the end of this set, in the case that the first shooter does not have a shot.
I have also posted some video of the play that was edited by Gibson Pyper
Below the video is a second end of game sideline inbound play from Coach Stevens called "Brush Clear."
"Winner"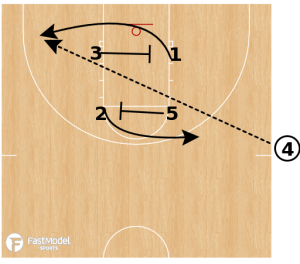 Box Formation
3 sets a back screen for 1
5 sets a cross screen for 2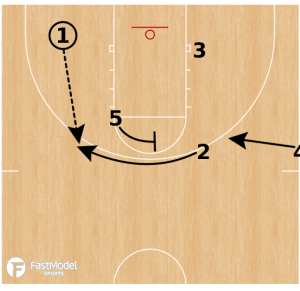 On the catch, 5 re-screens for 2.
1 passes to 2 for the 3-point shot.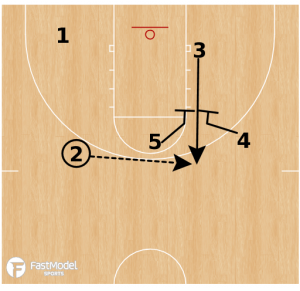 5 and 4 set an elevator screen for 3
3 cuts up the middle for a three point shot
This video is provided by Gibson Pyper, founder of Half Court Hoops
Brush Clear

Contributed by Matt Wheeler, Olympia High School, Orlando, Florida.
The Boston Celtics ran this play with the score tied and 36.3 seconds left in game 3 against the Cleveland Cavaliers. The Celtics wanted to get a quick score within 5 or 6 seconds so they would end up with the last possession of the game. As 2 gets the inbounds pass, 3 & 4 cut to the corners for spacing. 1 sets a brush screen for 2, allowing 2 to drive hard right looking for a layup or a kickout to a shooter.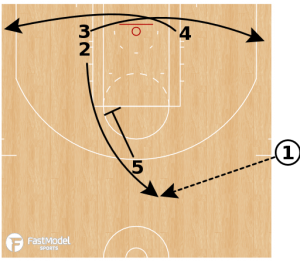 5 sets a down screen for 2.
3 & 4 exchange and cut to opposite corners.
1 passes to 2.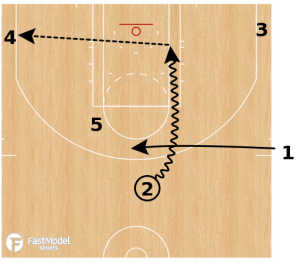 1 sets a brush screen for 2.
2 drives right for a layup or a kick out to a shooter in the corner.