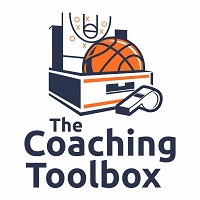 There are different ways of measuring possessions. Some coaches count each shot or turnover as the end of a possession, so if you get two offensive rebounds then that counts as two extra possessions. The system that has worked best for us is that a new possession only starts when the ball changes hands from one team to the other, so even if there are five consecutive offensive rebounds, it counts as the same possession because the same team has the ball.
Rebounding will be another discussion, but my belief is that it is very important to get the last shot of the first three quarters in high school and for middle school teams to learn the importance of that skill as well. If you can get the last shot of the first three quarters, then depending on who has the ball to start each quarter, at best you can get three more possessions than your opponent, and at worst, you each have the same number of possessions if they have the ball at the start of each quarter.
Potentially that is an 18 point swing for nine points you can get and nine points your opponent will not get. Even if the shots are twos, a 12 point swing is still huge.
It is not realistic to think that you are going to hit a three to end each quarter, but I have been involved in two varsity games where our one team did hit a three to end each quarter. Nine points made a huge difference in both games, as they will in most games. Since they were the last shots of each quarter, the other team did not have a chance to respond. My belief is that scoring runs, scoring droughts, and momentum play a big role in basketball. Taking the last shot and keeping the opponent from taking the last shot play huge roles in those three areas.
We practice the going for the last shot in practice every day by running the last 30 seconds of drill and scrimmage work like a game. 30 seconds is normally when we set as the automatic time that we begin to hold for the last shot. Our rule is that we will take an uncontested layup with less than 30 seconds, but nothing else. We have had years, depending on our talent relative to our opponents and our depth, where we have started to hold at 20 seconds, and have gone as much as starting at 45 seconds. For middle school, I think 15-20 seconds is the appropriate depending on what your players can do.
I believe it is better to just have an automatic time to hold for the last shot that your players have been drilled on rather than getting up and screaming "One shot!" You can continue to run your regular offense and just shot fake when there is a shot that you normally would take. Again, we will take a wide open layup under 30 seconds and then have confidence in our defense to get a stop . Other than that, we feel that the number of possessions is more important than shooting a 15 foot jump shot or even a wide open three point shot if it would allow the other team to have a chance to score.
The fourth quarter, we determine how we play the end depending on whether we are ahead or behind. If we are ahead, then we are going to hold to shoot free throws and will still take wide open, uncontested layups. If we are behind, we hope that we can get off at least three good shots in the last 30 seconds through using our banked timeouts and fouling to stop the clock.
The Coaching Toolbox has hundreds of free resources for basketball coaching including basketball plays, basketball drills, basketball quotes, basketball workouts, basketball poems, and more!