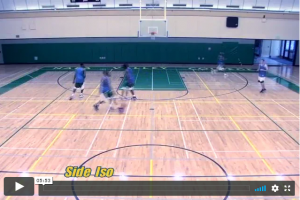 The Coach in the two videos is Lason Perkins.
Coach Perkins has worked at the high school, college, and semi-pro level for over 20 years.
He is currently the Head Boys Basketball Coach at Cary Academy.
He has created over 20 instructional videos and 5 books on basketball offenses.
He has built a reputation for being an expert on international offenses and styles of play.
There is sound with these videos.
Click the play arrow to view them.
The A-Set is the most popular offensive scheme used in International basketball. From Croatia to Greece, from Argentina to Spain, and all points in between, this potent offensive attack takes full advantage of on-ball screens, drive and kick principles, and great floor spacing.
Here are three plays out of the A-Set to isolate a player
For more information about this course on Coach Tube click the link A-Set Offense
A-Set Isolation Plays