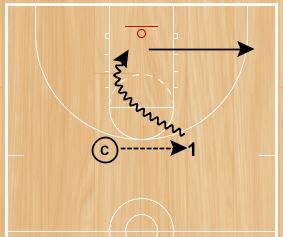 This basketball shooting drill came from the University of Washington Women's Basketball Coaching Newsletter.
If you would like to subscribe, email me and I will forward your interest on to Coach Mike Neighbors.
Use this drill with individual shooters. Break down your offense in this drill. Each spot the shooter must make a game speed move for lay-up/midrange jumper and also make a 3 point shot. If they make both shots they are a +1. If they miss one shot, they are 0. If they miss both shots, they are –1. Keep a running total. The shooter stays on until they get to +5 or end the drill when they get to –5. So the goal is to STAY POSITIVE. (good visual image drill)
As a coach, you must be the judge of the individuals GAME SHOTS, GAME SPOTS, and GAME SPEED. If it
doesn't meet that players standard, count that particular shot as a "MISS"…
Once the player gets to +5 for that section, they make 5 FT's. Change the cuts, screens, shots and go again.
Goal is always to STAY POSITIVE.
Will give you a few examples here… keep in mind these are from OUR actions. You MUST adapt them to
YOUR actions. This is just an idea of how to score and keep a drill competitive more than trying to copy the
drill action for action. We have about 25 different ones for variety.
Diagrams created with FastDraw
Stay Positive Shooting Drill
Coach passes to the shooter. Shooter attacks the basket off the rip to score. This can be a lay-up, a floater, or mid-range jumper. After completing that shot, the shooter simulates cutting to corner off a baseline block screen for a 3-pointer.
+5 or –5, then make 5 FTS.
Player starts with ball on wing. Simulates using a ball screen and drives it to score. After the shot, shooter cuts to the wing for a 3 point shot.
+5 or –5, then make 5 FTS.
Shooter starts at the nail. Cuts to the arc simulating a flare screen for a 3 point shot. From the spot where shot is taken, shooter receives another pass from coach. Shooter rips it through a drives it to finish. ** Be careful when you do the shorter shot 2nd in the sequence that you don't allow them to take a NON-game type shot in effort to not be –1 if they have missed the 3 pointer.