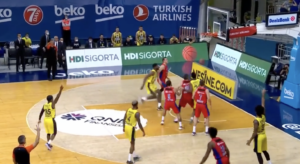 Basketball is a global game. Coaches who follow international basketball were not that surprised that the USA Basketball team lost to Nigeria and Australia. The style of play of Euroleague teams is becoming more prevalent in USA basketball. 
Coach Kostas Kalogeropoulos is an Assistant Coach for Olympiacos BC development team (division 2), under-18 boys team assistant coach, under-15 boys team head coach. Coach Kalogeropoulos has 17 years of coaching experience, and has spent many years studying international offenses.  
Coach Kalferopoulos studied last season's Euroleague teams and pulled out his favorite actions that he believes could help teams win and created this:
The euroleague best set plays of 2021-2021
His course consists of: transition offense, half-court sets, SLOB, BLOB, ATO & Special Sets. 
Transition offense is a great time to attack. The defense is sprinting back and may not be in position to defend the basket. Fenerbahce runs a couple wrinkles out of Double Drag. 
This wrinkle of Double Drag is designed to allow 2 open looks for shooters. 
Fenerbahce — Double Drag Turnout
(Click image to play Video)
In the half-court, Horns is one of the most predominant alignments in basketball in USA basketball at every level. Alba Berlin's spacing and timing of their Horns actions is a beauty to watch. 
This wrinkle of Horns they are looking to put the help defender in a pickle. If the helpside defender, the bottom man, stays to take away the lob then his man will be open for the 3. If the helpside defender takes away the 3 then it will allow the lob man to be open. 
Alba Berlin — Horns Flip Slip 
In a coaches playbook you want to make sure you have designed sets in certain situations. Most coaches have designed sets for: need a 2, need a 3, after timeout, SLOB & BLOB. Practicing ATO's before you draw them up in the huddle will help make it easier. 
The SLOB that Armani Milano runs is designed to get a quick 2 because they're down by 1 with just over a second to go. Under one second, you want to make sure you have a play designed that will get you a quick open look or a tip in/lob at the basket. 
Armani Milano — Special ATO SLOB
This playbook is filled with more than 100 set plays run by Euroleague teams during the 2020-21 season. All clips from game film video.
 Purchase the Best Euroleague Set Plays of 2020-2021 here
If you enjoyed this playbook and want more Euroleague action click below:
Effective Euroleague Plays 2019-2020
International Basketball: Euroleague Best BLOB Plays
Euroleague Pick and Roll Plays