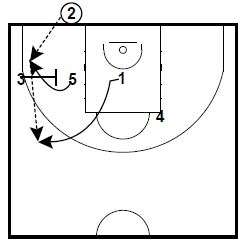 Today's post are two ideas for short shot clock, quarter, half, or game baseline out of bounds plays against man to man defense.
There might be a part of one of these two plays that you can add in a a wrinkle or a counter to something that you already use.
The numbers are used to distinguish the players on offense and do not have to be viewed as the traditional 1-5 positions.
Place your players in the spots where they can be most effective for the team.
It is also something to have the second group run as you work on defending under out plays that are different from yours in practice.
However you can use them, I hope you find them of value. Regardless of what you run, having the ball under your opponent's basket is a great place to attack the defense from.
I have several playbooks available in bundles of 4 for $35. You can make your selections here: eBook bundle pricing
Diagrams created with FastDraw
Iran Stagger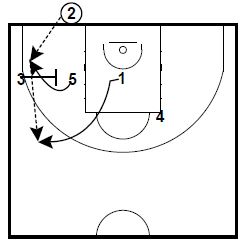 3 screens in for 5.
2 passes to 5 who passes to 1.
5 and 3 set a staggered screen for 2.
1 passes to 2 for a shot.
If 2 isn't open, he moves back down to set a staggered screen with 5 for 3.
After seeing that 2 isn't open, 1 looks to pass to 4 at the pinch post and loops around looking for the hand-off.
4 can give 1 the ball back on a hand-off or pass to 3 for a shot.
Baylor Tripple Stagger
2 moves first and runs toward 5 as if he is going to cut off of him but instead makes a turn and sets a screen for 3.
3 jabs and cuts around the triple staggered screen from 2, 5, and 4.
1 looks for 3 in the corner for the shot.

If 3 isn't open, he cuts through to the opposite corner.
2 then cuts off of the staggered screen from 5 and 4.
4 rolls to the basket.
5 steps out to the top of the key for a shot or an outlet pass.
The plays are taken from the Men's Basketball HoopScoop Olympic Playbook.
I have several playbooks available in bundles of 4 for $35. You can make your selections here: eBook bundle pricing