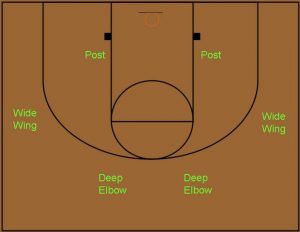 I believe that the defensive and offensive systems and styles that a basketball team employs must be complimentary.
In this post, I am going to concentrate on what I call the 6 phases of an offensive possession.
The following is the system that I use to organize, teach, and evaluate each possession as it cycles from offense to defense.
My hope is that you can get a couple of ideas to adapt to your program.
Here is a link to the 6 defensive cycle of a possession.
Basketball Offensive Phases
Offensive Phase #1 Transition after made baskets and missed baskets. Never be surprised by a trap or full court press–we inbound the ball in our press offense every time after our opponent scores. Our principles in our press offense are to put one player back as a finisher at the basket. Throw the ball over the top of the press as a pressure release. One reversal and then cut through. Do not throw the ball back to the side from where it came. 3 x15 foot receivers in the backcourt. Pass fakes to move the defense.(10 sec better than bad pass). Man to man clear out for primary ballhandler, but be prepared for a run and jump. Click here for more on press offense.
All eyes on the ball as it crosses half court. If we do get trapped, we automatically go into rotation–our half court trap alignment.
Long lead pass is thrown to ft line
Offensive Phase #2 Establish and maintain spacing spots
Just as in the defensive phases, it is important not only to establish spacing, but it is important to maintain it during ball and player movement.
Our perimeter spots are one step behind the 3 point arc.Wide wings, deep elbows, deep corners are suggested spacing spots. Only throw to a player in the deep corner who has an immediate shot to avoid putting the ball in a trap situation. Too high and too wide is better than too close for deep elbow and wide wing.
A critical concept in spacing is that if the ball is in the post, the short corner (halfway between the post and the deep corner), or in the deep corner, there MUST
be someone at the ballside wide wing to give the ballhandler an outlet if s/he is trapped.
At all times we have 4 players without the ball, screening, cutting, spacing, slipping, or posting
Offensive Phase #3 Handle the basketball with sureness (This is a continuation of my entry on avoiding turnovers. Click this link for that post: Avoiding turnovers
Catch triple threat–eyes on the net. Make the easy pass. The best Use Pass Fakes. Use bounce passes to throw out of traps or trouble. Don't pass to the offense-pass away from the defense which usually means the outside hand. Meet every pass. Attacking too fast or forcing drives or passes that are not available Catching and dribbling rather than catching in triple threat leads to turnovers.
Passing-push with outside hand to outside hand of receiver. Contact is never an excuse to loose the ball Fake a pass to make a pass.
Do not fake backdoor. If you start a cut backdoor, you go all the way to the basket.
Offensive Phase #4 PUT THE BALL IN THE LANE AGAINST ALL DEFENSES Put the ball in the lane to score, to collapse the defense, and to get to the free throw line. We want an inside out attack.
Do not settle for outside shots against a zone or a trap—go inside.
Dribble drives, Post feeds, passes to cutters, and offensive rebounds are the ways that we get the ball in the lane.
Offensive Goals: 2/3 possessions ball in lane. We chart this in practice and games.
Offensive Phase #5 Shot selection—Don't settle for anything less than who, what, when, and where we want
Shot rating system and the order in which we look to score
4. Layups and Power Shots
Free Throws
3. Wide open three point shot
2. 2 point jump shot with hand in face
1. Pull up 2 point shot with hand in face, shots off the arc
Offensive Phase #6 Fill rebound spots when the ball is shot (where the defensive cycle starts)
When we shoot the ball, we go to the spots diagrammed at the left to give us offensive rebound coverage and to prepare to convert to defense.
if #1 or #2 Shoot the ball, they do not follow their shot in our system. #2 (We call him our halfback) slows the ball as it is beirng advanced on the dribble. #1 (we call him our fullback) retreats to cover the basket.
If 3, 4, and 5 can't grab an offensive rebound, look to tip out to 1 and 2