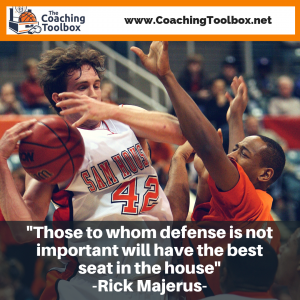 Today's post is a competitive drill.
The video of this drill is hosted on YouTube, so you will not be able to access it unless you are on a server that allows YouTube access.
The coach in the video is currently the head coach at Iowa State University and former UNLV and South Dakota State University Head Coach, T.J. Otzelberger.
In my opinion, competitive practice drills are more game-like, improve both toughness and skills, and increase engagement from your players.
Click the play arrow to view the video.
There is narration with the video, so please make sure that your sound is on.
I do realize that while this drill overloads the defense and makes guarding the dribble much tougher than it would be in a game, it could possibly instill bad habits on offense. Too much dribbling and forced into taking bad shots. Something to think about.
You can find out more about the Championship Productions video that this clip is from at this link:
Open Practice with T.J. Otzelberger: Defense