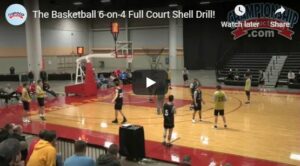 An idea for a full court version of the shell drill from Chris Jans of New Mexico State.
You might not play these exact rules, but starting full court is a way to add a variation to your shell drill.
I hope it gets you and your staff thinking about ways to improve the drills that you currently use to teach and practice your defense.
The demonstration is using players as coaches and is with a team that has never run this drill. To me, the idea is the concepts presented and whether or not you want to use them in your program.
These videos of are hosted on YouTube, so you will not be able to access it unless you are on a server that allows YouTube access.
Click the play arrow to view the videos.
There is narration with the video, so please make sure that your sound is on.

6 on 4 Full Court Shell Drill
You can find out more about the Championship Productions video that this clip is from at this link: High Energy Practice Drills