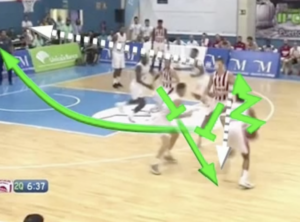 The Spain Pick and Roll is a new variation of the Pick & Roll that has taken the NBA (and other basketball levels) by storm this year. 
The Spain pick and roll occurs when a screen is set for the ball handler, then a third player sets a screen on the player defending the man rolling to the rim. 
A normal pick and roll is used to create a two-on-one advantage — adding a third player essentially turns it into a three-on-two. 
The Spain pick and roll is being used in many different wrinkles & series because it is very hard to defend.
The back screen is one of the hardest screens to guard in the game of basketball — it causes most teams to just switch even if it creates a mismatch.
The Horns entry into Spain pick and roll 1-5 is a simple action that requires great spacing. The action starts with a flare over the top and then the action is right into the Spain pick and roll.
Horns Entry into Spain P/R 1-5
(Click image to play Video)
Defending the Spain pick and roll is hard enough. This action allows for 2 Double Spain pick and rolls within the same action.
All 5 players are involved in this set — which causes the defense to stay on their heels defending multiple actions. 
Double Spain Pick and Roll (All 5 Players Involved)
The Spain pick and roll creates a defensive nightmare. 
In a regular pick and roll, the defense only guards the ball handler and the screener while the other defenders are in help position. 
The Spain pick and roll adds another offensive player in the equation and adds one of the hardest screens to defend. 
These clips were taken from Coach Luka Bassin's Spain Pick and Roll Video Course.
The complete course is available here
If you're interested in seeing more from Coach Luka Bassin then you can find more courses below:
The Most Popular Xs & Os in European Basketball
Zone Offenses from International Basketball
Box +1 – Winning Defense for ALL Levels