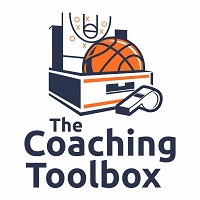 This drill is selected from the HoopScoop eBook "How to Install a Switching Defense" playbook.
(Click for more information about each)
ID 187 Chris Holtmann Playbook, Archie Miller Playbook, Ultimate Scoring Drills eBook, 2017 NCAA Tourney Plays
ID 27 Brad Stevens Butler Playbook, Packline Defense, Spurs Playbook, Attention to Detail eBook
ID 29 Louisville Playbook, Comprehensive Ball Screen Playbook, Fred Hoiberg Iowa State Playbook, Winning Special Situations
ID 65 Ultimate Horns Playbook, Versatile Swing Offense Playbook, Spread and Go Offense Playbook, 130 Ways to Improve Practice
Or, you can click here to create your own bundle of 4 eBooks for $35:
If you want me to put any 4 eBooks together for you, email me at bwilliams@coachingtoolbox.net or call/text me at 765-366-9673
Diagrams created with FastDraw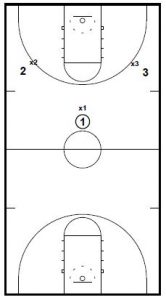 Fit the rules to your needs and to your philosophy and style of play.
3 v 3 Full Court- no dribble. (You could allow regular dribbling and or one or two dribbles to start and then cut back to no dribbles)
Rules:
1. No dribble.
2. Games to 2 or 3. Quick.
3. 2nd foul by defense on
same possession results in point for offense.
4. Defense must pick up by 3/4 court.
Structure:
Two courts going at same time- winners court/losers court. Games either ends when:
1. Winners court is finished. Loser court game is stopped. Team with higher score wins. If tied, next basket wins.
2. When winning score is reached.
King of the court- winners move up, losers move down. If there are more than 4 teams, loser on winner court doesn't go to end of line- goes to
loser court and plays immediately.
Time: 20 minutes.
*Over time you can change some of the rules to make the drill more difficult or to give it a different emphasis.