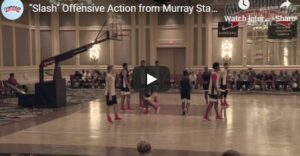 This zone continuity attack is presented by Murray State Head Coach Matt McMahon.
The video of this zone attack action is hosted on YouTube.
You will need to be on a network that allows you to access YouTube.
Click the play arrow to view the video.
There is narration with the video, so please make sure that your sound is on.
You can make adjustments to the way Murray State runs this set to fit your personnel and how you attack 2-3 zones.
You can find out more about the Championship Productions video that this clip is from at this link: Ball Screen Offense vs. 2-3 Zone