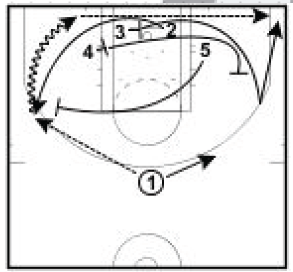 From an Arizona Basketball Coaching Newsletter:
If you are interested in being added to his newsletter, let me know this information (which the Arizona staff requires):
1) Name
2) e-mail address
3) school/team
4) Coaching Position
The plays were contributed to their newsletter by Brandon Rosenthal.
SAN ANTONIO STAGGER P&R (TWO OPTIONS)
(3) & (4) stagger screen for (2). (1) hits (2) and cuts away.
(3) cuts out to the wing and (4) searches the lane.  (5) sprints into side pick and roll.
Option 2 below is if (2) turns down the ball screen from (5), then (4) flair screens for (3).  (3) cuts to the corner for a 3 point shot.
Basketball Plays
The Coaching Toolbox has hundreds of resources for coaching basketball including basketball practice, basketball plays, basketball drills, basketball quotes, basketball workouts, basketball poems, and more!