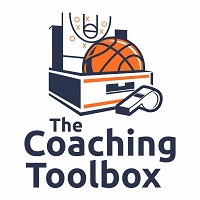 Coaching at the end of a tight basketball game is more of an art than a science. But, I feel better as a coach having gone through as many scenarios in my mind and come up with how I am going to handle them as I possibly can. I think teams will be more successful in tight games if your players have practiced various end of game situations and know how you, as their coach, will react to them. It is often difficult to communicate at the end of the game when the gym is loud and you are out of or rationing your timeouts, so it is essential that your players are sure about the strategy in advance.
Let's take the case where a team is up eight points with two minutes to go in the game. Certainly, there are hundreds of time and score situations that we could examine. For the sake of brevity, I am going to use the up 8/2:00 to go in this article. The intentions of this article are: To motivate basketball coaches to consider as many similar scenarios as you can imagine and how you will handle them as they come up in a game, and to encourage you teach your philosophy to your players through repetition in practice.
I have heard, probably said it without realizing it, and disagree with telling a team, "We're up eight points with two minutes remaining in the game; we don't need to score." My thought is that in the vast majority of end of game cases, you will still need to score to win. Your opponent will be more than capable of scoring eight or more points in two minutes, so you are going to need to score to win.
The rule I follow is this: If the regular rotation players are still in the game, then we still need to be prepared to score to win the game. If you have cleared the bench and are ahead, then you are making the statement, "We don't need to score again to win," without saying it.
What coaches really need to say at the end of the game when milking a lead and the clock is:
"We want to control the types of shots that we take to get the additional points we will need to win this game. We don't want to take quick shots, unless they are free throws after a quick foul. We don't want to take outside shots. The shots that have the best chance of going in are lay-ups and free throws, so let's make sure that those are all that we shoot."
Since that is often hard to communicate in a gym that is up for grabs in a tight game and uses too much time in a timeout, I learned one word (or gesture) that would communicate what I want to milk the clock late in a game. "Four."
We use the Don Meyer shot rating system. 4 = lay-up or power shot, 3= great perimeter shot, 2 = okay perimeter shot, and 1= bad shot. So, at the end of the game, holding up four fingers means it is time to shoot only lay-ups (and free throws). Not contested lay-ups, but open lay-ups that will not be missed. You can apply it to an end of game spread or delay offense or to your regular half-court offense.
In a perfect world, you could spread the floor, milk the clock, and run off the last two minutes of the game without a change of possession.However, more than likely, the team that is behind is going to stretch out the game with timeouts after scoring, quick shots, attacking the basket quickly since you are not going to want to foul, fouling when you have the ball to stop the clock, and flooding the perimeter with defensive pressure so that often the basket is one of the more open areas on the floor. Frequently, the number of possessions of the last two minutes is equal to or greater than the number of possessions in the previous 4 minutes. A well coached team can create 10-12 or more possessions the last two minutes. It will be difficult to protect an 8 point lead without scoring for 10-12 consecutive possessions at the end of the game.
But, if your team: Has a plan to milk the lead that has been practiced frequently, can handle the ball well enough to make the defense foul you, shoots only uncontested lay-ups that go in, and can make your free throws—then you have a good chance of scoring enough points to maintain the lead and close out the game with a victory.