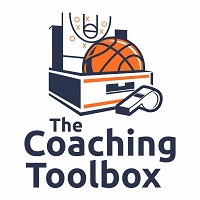 These observations are from Alan Stein's blog. This excerpt from the series was originally put together by 5 Star Basketball Camps.
Today's lists are part 1 of the entire group. There is a link to part 2 at the bottom of this article.
I hope these are some thoughts you can use to give more purpose to the roles you have defined for your team.
GREAT GUARDS
Great Guards are relentless on both ends of the court.
Great Guards use pump-fakes and ball fakes often. They set up the defense to go one way and pass/go the other way.
Great Guards know not to telegraph their passes. They use their eyes to create deception.
Great Guards welcome defensive pressure. They see it as an opportunity to score an easy bucket for their team.
Great Guards are patient with the basketball. They read the defense & act accordingly.
Great Guards facilitate every facet of the offense.
Great Guards don't try to find the ball, they let the ball find them!
Great Guards are ALWAYS communicating with their teammates to ensure cohesiveness.
Great Guards hustle back on D when they get beat. They set the defensive tone!
Great Guards rebound their position – they don't leave that to the 'big guys.'
Great Guards push the ball up the floor and try to find an opening in the defense for themselves or a teammate.
Great Guards get everybody involved by sharing the basketball.
GREAT POST PLAYERS
Great Post Players knock down their free throws when they get to the line.
Great Post Players have go-to moves with either hand to use in the paint. They also have a countermove for every move.
Great Post Players enjoy banging on the interior and setting solid screens.
Great Post Players are exceptional at help defense. They stop the ball when it's in the paint!
Great Post Players can hedge on the perimeter and get back to their man QUICKLY.
Great Post Players draw double-teams, recognize them and react quickly to get the ball to an open teammate.
Great Post Players never over dribble.
Great Post Players run the floor – rim to rim – on offense and defense.
GREAT TEAMMATES
Great Teammates call out screens so their teammate doesn't get clobbered.
Great Teammates don't care whether they start or come off the bench – they just want to win!
Great Teammates HYPE their team UP before the game and during halftime.
Great Teammates are an extension of the coach – on and off the court.
Great Teammates are positive, supportive, honest, and enthusiastic.
GREAT TEAMS
Great Teams dig in on defense until they get the ball or the buzzer sounds. They NEVER give in because they're tired.
Great Teams listen to their coach – they understand that he/she is looking out for their best interests!
Great Teams know who they want to get the ball to in the clutch – they have a game-plan.
Great Teams close out games and know how to play with a lead. They also know how to fight back when they are down
Great Teams are willing to share the ball on offense – they don't care who scores they just care that they
score.
GREAT PASSERS
Great Passers make scoring easy. They put the ball where it needs to be, when it needs to be there.
Great Passers can throw every type of pass – with either hand – depending on the situation.
Great Passers make the simple play, not the flashy play. All they care about is a positive outcome, not
how it looks.
Great Passers fake a pass to make a pass.
GREAT REBOUNDERS
Great Rebounders are quick off the floor – they anticipate where the ball is going and go get it!
Great Rebounders just don't want the other team to get the ball – they clear out space for teammates to
get the rebound.
Great Rebounders assume 'shot is taken, shot is missed.'
Great Rebounders protect the ball after the rebound.
Great Rebounders attack the glass on both ends of the floor.
Great Rebounders have soft hands and great body balance.
Great Rebounders always think the ball belongs to them.
Great Rebounders find their man when the shot goes up, make contact, block out, then pursue the ball.
Click here for Part 2 of Characteristics of Great Basketball Players