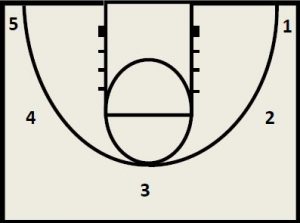 These two shooting drills come from Coach Mike Neighbors newsletter.
Coach Neighbors took the women's job at Arkansas in April 2017 after four years at Washington where he guided the team to the 2016 Final Four.
If you are interested in receiving his newsletter, please email me and I will pass along your email address to him.
The first drill is "Green Light Shooting," the second is "Prove It"
Coach Neighbors teaching point is "Early preparation/Same shot every time"
Green Light Shooting
4:00 Shooting Drill. Shooter will use our usual 5 spots for each attempt.
1st trip around (1 thru 5 spots): shooter must make 3 shots at spot 1 before moving to Spot 2. Shooter progresses to each of the 5 spots after making 3 shots.
2nd trip (back around spots 5 thru 1): Shooter must make 2 shots in a row at each spot before moving to the next.
FINISH: Shooter moves around the five spots make or miss until she makes 5 consecutive 3's… ** must move make or miss.
We record total time to complete. If the 4:00 time limit expires, we record the total number of made shots.
Drill #2 "Prove It"
Shooter must make 8 shots at spot 1. When she has made the 8th shot,
She must then make 3 in a row to "prove it".
Repeat at each of the 5 spots.
Record total time it takes to PROVE IT at all 5 spots.