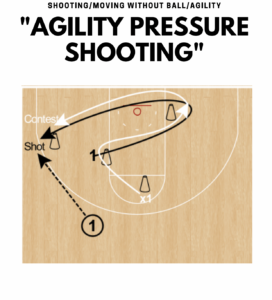 These drills were submitted by Coach Mason Waters you can follow him on Twitter at twitter.com/masonwaters_
Mason Waters has coached at multiple levels of basketball including the NCAA Division 2 level at Flagler College, the high school level at West Forsyth High School in Georgia, and at the middle school level. He's currently an assistant at South Forsyth high school.
You can download his entire Drill Book here: Coach Mason Waters Drill Book
PURPOSE:
The purpose of this drill is to emphasize cutting off the ball at full speed, getting a shot attempt at a high speed, and to make a proper read of a closing defender. Defensively, this drill is practicing on trailing the shooter.
SETUP /INSTRUCTIONS:
Setup 4 cones as diagrammed on the court from the previous page. There will be 1 offensive player and 1 defensive player. The action will begin when 1 starts cutting. Xl reacts immediately and trails 1 around each cone. As 1 approaches the final cone, they will receive the basketball. They will catch to shoot. If the defender is very close, the drill turns into lvl live.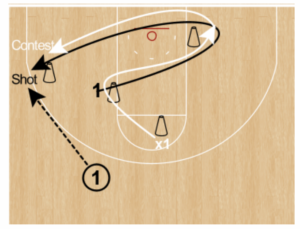 TEACHING POINTS:
1) Offense: Cut fast AND when you catch, you are definitely shooting. Only stop your shot if the defender is right there.
2) Do not allow cutting at full speed to create poor shooting form/ keep good shooting form.
VARIATIONS TO THIS DRILL:
The primary principle behind this drill is to reward sprinting throughout a cut and to also reward a fast shot release. Therefore, change the cones and cutting patterns to however you like.
# OF BASKETBALLS: 1