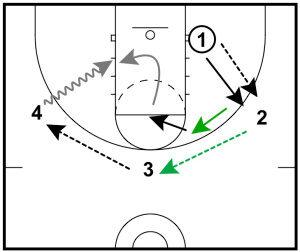 These 3 defensive drills are from Matt Monroe's Hoops Roundtable site.
He posts a new article daily and has a lot of really good articles that he has written as well as contributions from several other coaches.
Use these drills as ideas for improving the drills you use to teach and reinforce your defensive concepts and principles.
Diagrams created with FastDraw
Defensive Drift Drill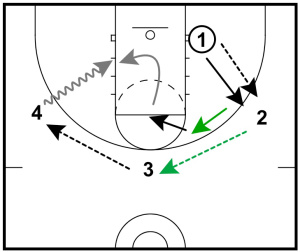 #1 passes the ball to #2 and closes out
#2 passes the ball to #3
#1 sprints to the denial area
#3 passes the ball to #4 #1 sprints to help
#4 drives and #1 sprints to take a charge
3 on 3 Sprint to Help Closeouts
In my opinion, anything you can use to teach "Sprint to Help." "Run when the pass is in the air," and "Get there before the ball does" is a great drill for your defense.
Three players along the sideline start with basketballs
Three defenders are guarding them
Two coaches act as passers and move the defense with their actions
The coach passes the ball
On the airtime of the ball, the three defenders sprint to the helpline and get in the proper position and stance
When the ball is passed back to the other coach, the defensive players closeout to their men with the proper technique
Repeat several times
Kansas Closeouts
Tom Kleinschmidt, Head Boys' Basketball Coach, DePaul College Prep (Chicago)
Cones are placed in both corners and on both wings
Defensive player (x1) closes out to each cone in this order: wing, to corner, to opposite corner, to opposite wing
After all 4 closeouts are complete, x1 slides to the sideline and x2 begins the drill
Sprint to closeout but don't jump into closeout
Keep hips low on slide steps and do not bring your feet together