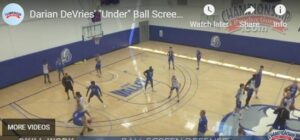 Here is a drill that 2019 Missouri Valley Coach of the Year Darian DeVries uses to work on his ball screen defense.
Coach DeVries led the Drake Men's team to the 2019 Regular season Championship in the MVC.
In the video, they are working on going under ball screens.
You can change angles and spots on the floor to get a lot of fundamental repetition on your ball screen coverages.
The video is hosted on You Tube.
You will need to be on a network that allows you to access You Tube.
Click the play arrow to view the video.
There is narration with the video, so please make sure that your sound is on.
You can find out more about the Championship Productions video that this clip is from at this link: Open Practice–Building the Pack Line Defense from the Ground Up
The video is available in both DVD and online format.