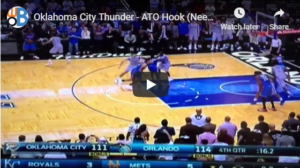 These two NBA Sideline Inbound plays are featured posts in the FastModel Sports Basketball Plays and Drills Library.
You can also find out more about FastModel Play Diagramming software by clicking this link: FastDraw
Note: The numbers are to distinguish between the 5 different players on the floor, not to say that you have to put a traditional "5" player (i.e. center or post player), or a traditional "4" player (i.e. power forward) in those spots if you run the play. If you need a 3 point shot, at the end the game, IMO it is better to put 5 players who are dressed for the game that give you the best chance of accomplishing that.
Note #2: The purpose of this post is not to say that you should run this exact play.
But, I hope it does motivate some discussion and thinking among your coaching staff as to how you can possibly incorporate some of the actions in this play to your team's end of game situations, or as to what you can do to counter teams that switch everything at the end of the game in this situation.
Many of the players have changed teams. The point of the post is to give you ideas on ways that you can put your players in positions to be successful.
OKC End of Game SLOB
This play was contributed by former Florida Graduate Assistant and current Fort Myers High School Boys Assistant Kyle Gilreath.
Billy Donovan drew up this ATO with under 10 seconds remaining as the Oklahoma City Thunder trailed by 3 at Orlando. If you've followed Coach Donovan for years, you know he loves screen the screener actions for his best players.
Durant screens 2 (Augustine) to the corner as 1 (Westbrook) screens 5 (Adams) into a pindown for Durant.
Cleveland SLOB Back DHO Quick 3
The plays were submitted by Jon Giesbrecht. Jon is currently an assistant coach with the University of Winnipeg Men's program. Jon is also an assistant coach with the 17U Male Provincial team for Team Manitoba (Includes National Championship 2013-14).
3 gets open, 1 passes to 3.
1 cuts off 3 and receives dribble hand off.
1 dribbles to get better angle to pass to 5.
1 cuts off 5 for a fake handoff.
4 sets back/flare screen for 3.
4 receives guard get for 3pt shot from 5.