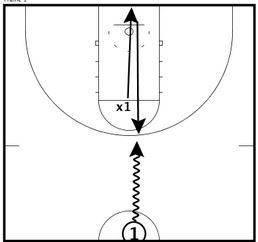 This drill was posted by Coach Randy Brown in FastModel's library. The library has hundreds of plays and drills from coaches all over the world and from various levels of coaching. You can check it out here:
Fast Model Plays and Drills Library

Toughness and execution are the features of this three point close out drill. The goal is for the offensive player to get an open three point shot at the top of the key.
The defender's mission is to take the shot away. If he is successful they play 1 on 1 until a foul, basket, or defensive stop occurs.
Drill starts in these positions. 1 has to start in jump circle in the back court. On "Go" X1 sprints to touch baseline and out to close out on ball.
Goal for 1 is to drive the ball just above top of key and shoot uncontested three point jump shot. X1 goal is to closeout and take away the three.

Rule: If shooter is open he has to shoot the three.
If X1 takes three point shot away from 1 they play 1 on 1 from top of key.
If X1 gets stop he becomes offensive player. If not 1 will again have the ball with X1 as defender.
This can be an individual drill, playing to a certain score or a team competition.
You can use this as an individual or team drill. It fosters toughness, shot selection and three point accuracy, decision making, closing out, defending and rebounding with two hands. It can add healthy peer pressure to your practices.
Randy Brown continues his passion for the game of basketball well beyond his 30+ year coaching career. An 18 year NCAA Division I head and assistant coach he knows the difficulties of coaching and assists coaches of all levels around the world to help improve our ability to teach the game of basketball the right way.
Here is a link to his site: CoachRb