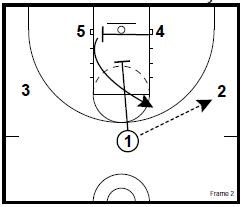 A continuity you can use if you have three post players from Nate Hill.
Coach Hill is the Assistant Boys Coach at Colonel Crawford High School in North Robinson, Ohio.
He started a Coaching Newsletter this past Fall. Here is a link to the archives if you are interested.
In case you have any questions or comments for Coach Hill, or would like to subscribe to his newsletter, here is his email address:
Diagrams created with FastDraw
Overview
Series of plays to utilize post players off down screens and cross screens.
Need to properly teach reading screens, getting open, catch and face, and feeding the posts
The cross screen, down screen is the main action of the offense.
2's reads: 5 on cross screen, 4 at elbow, 1 on backside block sealing.
By going away from your best post player, they stay block to block.
On catch, 4 looks at 5 on the high low. 3 downscreens for 1.
4 reverses to 1 for shot, or looks at 3 on the slip and post up.
The action continues.
If defenses switches everything, 4 can slip and 5 goes to elbow as a counter.
Counters vs. Switches
Counter 1: Slip the down screen.
Players hear switch, and 5 cuts to elbow, down screener (1) goes to block, 4 looks to pin on backside
Counter 2: post (5) sets back screen to get guard in post.
1 now goes block to block
Teaching Points
Point to Wing/Downward pass = cross screen and down screen. Start with these basic rules. Work on feeding post, and sealing backside block.
Downward pass = cross screen and down screen. Also can work on SLIP COUNTER here
Pass to top / reversal pass / upward pass = down screen. Work on feeding post from elbow / free throw line. High low pass, and reading the down screen.
Post entry action: choose which action you like then work here –
Scissor cut, Split, Skip/Hammer