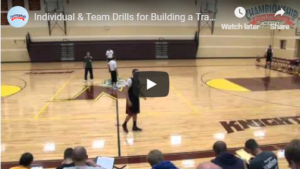 This video is a team shooting drill that also is a good conditioner.
The competitive aspect is competing against an established standard and/or your team's best score.
The video is a You Tube video so make sure that you are on a server that allows You Tube access.
I have also listed some skill development drills that have already been posted on the site below the video.
Make sure your sound is on.
Click here for more information about the DVD that this sample came from: Individual & Team Drills for Building a Transition Offense
Click the video to play it