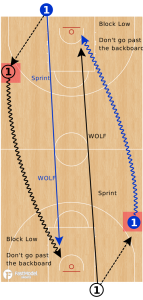 This ideas was contributed by Jordan Peterson to the FastModel Sports Basketball Plays and Drills Library.
Jordan is the Founder and Director of Positionless Basketball. Varsity Assistant at Stillwater High School (MN). Former Graduate Assistant at MSU-Moorhead.
He is a former college player at UW-Eau Claire.
You can also find out more about FastModel Play Diagramming software by clicking this link: FastDraw
These are Jordan's comments on the drill:
Drill that emphasizes players working on finishing but also incorporates passing, ball handling and decision making.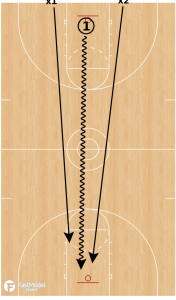 One player on offense, two players on defense.
Can give offense greater advantage by starting them further from defense or make it more difficult by making them even with defense.
Drill starts on offensive player's movement.
Offense tries to get a layup on the opposite end.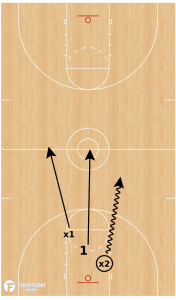 After layup: Offensive player is on defense and defensive players are now on offense.
2 on 1 going the opposite direction. Defender should "cat and mouse" to try and slow down offense. Offense should stay spaced and aim to make defender commit and give up basket.