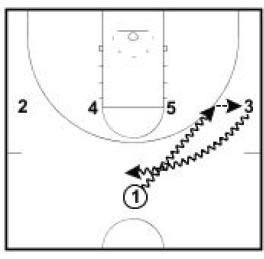 Scroll below to see the play.
This play is from the Arizona Basketball Newsletter..
This play is designed to be run against a man to man defense. It features three opportunities to get the ball inside.
If you are interested in being added to their mailing list, email me your:
1) Name
1) School or Team
2) Coaching Position
and I will pass it on to the Arizona staff.
Play starts in a 1-4 high alignment
1 dribbles at 3 for a dribble handoff exchange
2 empties to the opposite side and 3 hits 1 cutting to fill the spot vacated by 2.
At this point in the set is where the option takes place. Running both as counters with different names is better than allowing the players to make the choice
Finishing Option #1
3 cuts to the block to be able to set a screen for 2.
4 screens for 5 on 5s way to ball screen for 1
5 ball screens for 1, then 4 and 5 set a double stagger
2 has a choice to come off either side

Finishing Option #2
3 does not cut to the block in this option
4 screens for 5 on 5s way to ball screen for 1
3 and 4 set a stagger 4 2. In this option 5 rolls to the basket after setting the ball screen for 1