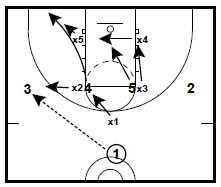 This 1-2-2 Zone Attack came from Coach Creighton Burns.
Below the diagrams are some more posts with ideas for attacking zone defenses.
Other resources on this site for attacking zones are listed on this page:
Diagrams created with FastDraw
Start in a 1-4 high alignment
PG should enter the ball to the opposite side of your best post player
Ball side post dives to the short corner
This should force the ball side post defender to match with the 4 man
From the wing position, you are looking to the short corner, the post who is pinning the middle of the zone, and the high post flash from the opposite wing
1 fills opposite wing
Note: Whoever is diving to the middle of the zone, needs to work very hard at pinning the middle of zone, even if you are not getting the ball.
(Short Corner Entry)
If the ball goes to the short corner, he should:
* Look to score if the post defender stays in the lane to pinch the offensive post player in the middle of the lane
* Enter the ball to the low post if his defender comes out to guard
Note: It is important that post in the middle of the lane be aware of the 3 second count. He needs to leave the lane at any time to avoid this violation
(Short Corner High Post Look)
If the high post (X1) starts to dig in the post because you are getting good low post feeds from the wing and the short corner, the short corner should look to pass to the high post 2, which is probably a good shooting guard, can shoot the 15 foot jump shot, or give a high low feed if X1 closes out hard on the shot
(Ball Reversal)
The high post steps out for a reversal pass
(Rotations)
Middle post cuts to the ball side short corner
High post dives to pin the middle of the zone
Weak side short corner flashes to the high post
You now have the same looks as you did on the other side