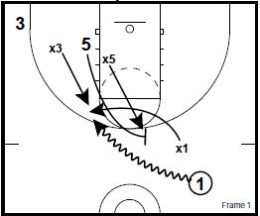 This post on defending pick and roll was sent to me by Nate Hill, Assistant Boys Coach at Colonel Crawford High School in North Robinson Ohio. He has coached for 18 years from 7th grade through Varsity Head Coach.
Nate has contributed several articles for the site.
Coach Hill said: I typed this up while preparing for our next opponent who runs lots of ball screens.
These are 5 different ways I've seen the pick and roll defended.
Pretty basic stuff, but it helped me out going through the different strengths and weaknesses.
He started a Coaching Newsletter this past Fall. Here is a link to the archives if you are interested.
In case you have any questions or comments for Coach Hill, or would like to subscribe to his newsletter, here is his email address:
I posted an article a year ago from retired NBA Coach Del Harris about defending pick and roll. Here is the link: Del Harris defending pick and roll
Diagrams created with FastDraw
Jam and Under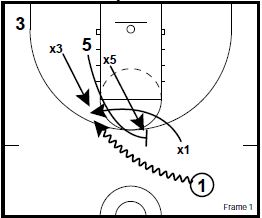 X5 chests up 5 and tries to JAM screener.
X1 goes UNDER screen.
X3 helps on 1
Give up: pull up jumpers, turning corner on drives
Take away: screener rolling / slips. force ballhandler to shoot off dribble
Hedge and Recover
X5 steps out and HEDGES screen, forcing the ball handler to change direction.
X5 must then sprint back to 5.
X1 fights over top pick and stays in 1 hip pocket.
X3 helps on screener
Give up: passes to roll man, possible guard splitting defenders and driving, pick and pop. Need extra defender
for roll
Take away: guards shooting off dribble, make players make tough "pocket pass"
Jump Switch
X5 jumps out in front screen and takes x1, x1 now guarding 5.
X3 helps on 1
Give up: this can create mismatches with guards / posts, slips off screens, and screeners rolling to post and posting up, post players defending guards off dribble.
Take away: open looks off screens. If players can guard in post and perimeter a good option
Blitz/Double Team and Tag
x5 and x1 jump into lane and try to trap 1.
Key is force weak pass or have the ball handler pick up the dribble. x3 helps on screener rolling
Give up: pick and pops, slip pass, passes over top screen with bigger guards, slow rotations. Teams can make a pass out of the trap, and a quick extra pass to open players with good spacing.
Take away: good shooters and drivers, forcing 1 to make solid pass, and 5 to make a shot / play. Forces players to make passes with weak hands.
TAG: closest defender helps out with roll man
Down/Ice
X1 jumps on topside of screen making 1 refuse the ball screen.
X5 helps on the DOWN / ICE call and they can trap or hedge the ballhandler.
X3 helps on the screener. This is very common on side pick and rolls in the NBA.
Give up: Screener rolling to basket / slips, midrange jump shots for screener, passes to ballside corner.
Take away: forces the midrange pullup or jump shot. Can force players to use weak hand. This is not used very much at the high school level.
Again, here is the link I posted a year ago from retired NBA Coach Del Harris about defending pick and roll. Here is the link: Del Harris defending pick and roll