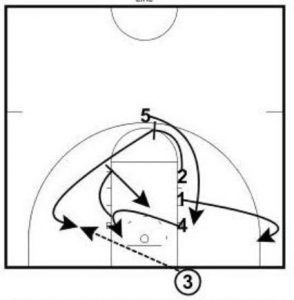 I received this underneath inbounds play from Brandon Rosenthal, assistant men's basketball coach at St. Edward's University.  
This would be a good one to save for the last couple of minutes of a game where you need a score.  
That way, your opponent would not have defended it earlier in the game.
The name of the play is "Line."
4 dives to opposite block
2 peels out and screens 5
4 screens 2, then dives to the rim
1 cuts outside the arc on ballside
2 cuts to short corner opposite ballside
A couple of thoughts of mine on inbounds plays.  Have the players begin their movements when the inbounder catches the bounce pass from the official.  I don't like the idea of slapping the ball–it wastes a second on the five second count.
Even if you have a particular cut or a particular player that you are looking to hit, don't turn down an available receiver who is open.  Throw the ball in to the first open player.
The Coaching Toolbox has hundreds of resources for coaching basketball including basketball practice, basketball plays, basketball drills, basketball quotes, basketball workouts, basketball poems, and more!