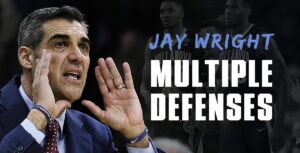 Jay Wright is currently the men's head coach at Villanova University, a position he has held since 2001. He previously served as head coach at Hofstra University (1994–2001), leading the program to NCAA Tournament appearances in both 2000 and 2001.
Perfecting the zone defense is a difficult task to teach and to evolve. In this course, Villanova head coach Jay Wright discusses the use of the 1-2-2 zone in this clinic presentation for the NJBCA virtual clinic. Coach Wright goes over the basics of the zone and also discusses the ability to extend the zone to add additional pressure on teams. Check out a free lesson and start learning how to perfect your zone defense today.
We are providing this drill to give you ideas on how to enhance your current practice drills. The idea is not to implement it exactly as is, but rather to tweak it to make it fit your system.
There is sound with the video, so please make sure that your sound is on.
This is a Vimeo video, so you will need to be on a network that does not block Vimeo videos.
If you would like to see more information about Coach Wright's entire presentation, click this link: Multiple Defenses