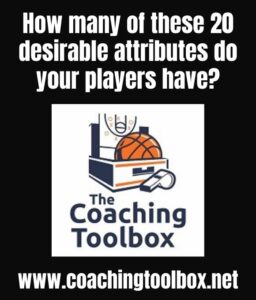 Both of these resources came from old Xavier Men's Basketball Newsletters.
Here is a link to their archives: Xavier Men's Basketball Newsletter.
I like to file these kinds of list for players notebooks.
This first list is what one NBA team "On the Court Player Attributes" they look for when evaluating players. There are some points that can be modified and adapted for the college and high school levels:
1. Does he "Fight Back" or have resiliency as a competitor?
2. Does he come from a winning background or culture?
3. Can he defend multiple positions?
4. Does he cut hard?
5. How does he take a screen? How does he set a screen?
6. Basketball IQ: Feel and understanding of the game?
7. How does he attack a close-out off the dribble?
8. Is he consistent and reliable night-in and night-out?
9. How does he bounce back from a poor performance?
10. Is he "comfortable being uncomfortable?" A pressure player?
11. Is he a quality teammate?
12. How does he impact and affect winning?
13. Can he remember plays and take instruction?
14. Is he around the ball? Does he try to rebound defensively?
15. Does he shy away from contact?
16. Is he a whiner and complainer?
17. Can he "Pull and Kick?"
18. Does he have an edge? Have something to prove?
19. Does he approach the game as a professional?
20. Can he play his game at a top speed?
Pat Riley on The Disease of Me
The Disease of Me = The Defeat of Us
6 Danger Signals of the Disease of ME:
1. Chronic feelings of underappeciation–focus on oneself.
2. Paranoia over being cheated out of one's rightful share.
3. Leadership vacuum resulting from formation of cliques and rivalries.
4. Feelings of frustration even when the team performs successfully
5. Personal effort mustered solely to outshine one's teammate.
6. Resentment of the competence of another.
"The most DIFFICULT thing for individuals to do when they become part of a team is to sacrifice, it is much EASIER to be selfish." Pat Riley
I have included links to similar articles below.