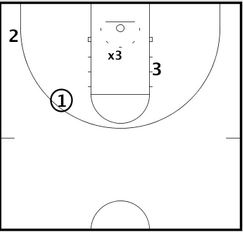 This drill was posted by Coach Randy Brown in Fast Model's library.
The library has hundreds of plays and drills from coaches all over the world and from various levels of coaching. You can check it out here:
Fast Model Plays and Drills Library

Randy tweets a lot of his content. You can follow him here: @CoachRB
In this competitive defensive drill, a combination of skills are on display.
Defender must execute the following skills; vision, floor position, block out, rebounding with two hands, anticipation, close out, one on one defense.
Starting positions for the drill.
Defender is in help position relative to the ball and player he is guarding, 3
On the shot, defender blocks out 3 going for the offensive rebound. The block out must be outside the lane.
Defender must rebound the game with two hands and return pass to the shooter.
Once 1 has the ball, defender anticipates pass to 2 on the left wing.
Defender must sprint into a close out on 2 and goal is to be there on the catch to take away the open shot. If no shot, one on one from the left wing.
Goal is for defender to keep ball out of lane, contest shot, and rebound with two hands.
Many different options can be incorporated into this drill. It can also serve as a great conditioner.
It can be run as an individual or team competitive drill.
Coach Brown has a free eBook that is a great resource for basketball coaches. Click here to download a copy:
Coach RB 100 Vital Coaching Questions and Answers
He also tweets a lot of his content. You can follow him here: @CoachRB