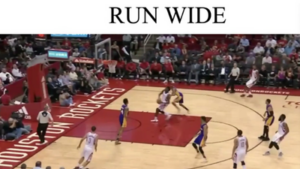 Coach Cody Toppert, a former Memphis assistant coach and current assistant at LSU, explains the value of running wide in transition and how it helps create early open looks in a 5 out offense.
In the clip below Coach Toppert does a great job illustrating his concepts using game footage.
Here is a quick breakdown of what he discusses in the clip.
Find the nearest sideline
Run wide and keep vision of the ball
Running wide creates opportunities for the trigger man in the middle third of the floor and creates opportunities to stretch the defense and find early shots.
Value the Corners – race to the corner and be shot ready
Put pressure on the rim and fill spots behind the 3-pt line
He also discusses that data shows that the 3pt % drops later in the possession. Players make a higher % of threes when they take them early in the possession.
This clip was taken from Coach Toppert's complete course. For more information about that course click the following link: 5 Out Systems and Actions
For those interested Coach Toppert is a highly regarded player development coach and he has also put together a training course on that topic: Complete Player Development Masterclass – Turn Your Players Into Pro`s