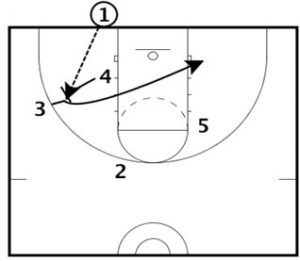 A baseline out of bounds set using a quick hand off to the inbounder.
Creighton Burns found the play on the FastModel Site
On all of our inbounds plays, I like to have the players start their movement as the inbounder receives the ball from the official.
That way we save a second from having to slap the ball to signal to start the play
Diagrams created with FastDraw
4 screens for 3 slicing to lane, then shapes up to receive inbound pass from 1.
1 steps inbounds to receive a dribble handoff from 4 and attacks middle.
5 sets a flare screen for 2 as 3 loops back around a pin screen from 4