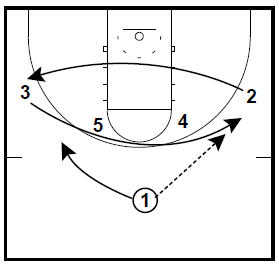 This ball screen play diagram is from the Coach Scott Peterman's Basketball Hoopscoop Florida Gator Playbook
We are running our 2016 Year End eBook Special.
Create your own bundle by selecting any 4 eBooks from our weekly bundles throughout the year. Just email me or call/text me at 765-366-9673.
Here is a link to all of the eBooks and descriptions
Or, purchase one of our more popular existing bundles
Bundle #1
VCU Playbook, Meet the Press, Ultimate
Matchup Zone, Mental Toughness
Bundle #2 Brad Stevens Butler Playbook, Packline Defense,
Spurs Playbook, Attention to Detail eBook
Bundle #14 Spurs, Warriors, Iowa State Playbook, Brad Stevens Butler Playbook
Bundle #15 Ultimate Match Up Zone Playbook, Packline Defense, Comprehensive Ball Screen Playbook, Fred Hoiberg ISU Playbook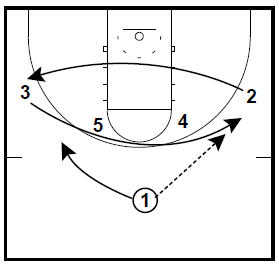 2 cuts to the left wing.
3 cuts over the top of 5 and 4 to the right side.
1 passes to 3 and slides over to the top left guard spot.
4 acts like he will set a ballscreen and then slips to the left low block.
5 sets a ballscreen for 3.
3 attacks the top of the key.
3 passes the ball to 1 and cuts to the right wing.
5 dives to the right low block.
1 passes to 2 and cuts to the left corner.
4 sets a ballscreen for 2.
2 attacks the basket.
5 ducks into the post.
You get 53 elite offensive plays spanning over 122 pages for you to practice and implement immediately, tweak and customize to fit your own team's unique skills and abilities, and quickly reference "at-a-glance" forever.
You can click this link for more information about the eBook
These 53 plays are split accordingly:
4 Transition Set Plays
43 Man Set Plays
2 Zone Offense Plays
4 Baseline Out of Bounds Plays versus Zone Offense