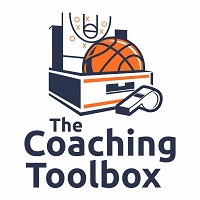 This ball screen play diagram is from the Coach Scott Peterman's Basketball Hoopscoop Florida Gator Playbook
4 eBooks $35
(Click for more information about each)
ID 187 Chris Holtmann Playbook, Archie Miller Playbook, Ultimate Scoring Drills eBook, 2017 NCAA Tourney Plays
ID 27 Brad Stevens Butler Playbook, Packline Defense, Spurs Playbook, Attention to Detail eBook
ID 29 Louisville Playbook, Comprehensive Ball Screen Playbook, Fred Hoiberg Iowa State Playbook, Winning Special Situations
ID 65 Ultimate Horns Playbook, Versatile Swing Offense Playbook, Spread and Go Offense Playbook, 130 Ways to Improve Practice
Or, you can click here to create your own bundle of 2 eBooks for $25:
If you want me to put any 4 eBooks together for you, email me at [email protected] or call/text me at 765-366-9673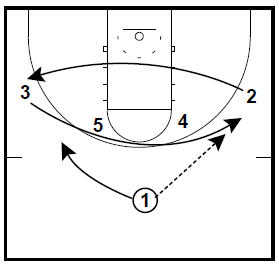 2 cuts to the left wing.
3 cuts over the top of 5 and 4 to the right side.
1 passes to 3 and slides over to the top left guard spot.
4 acts like he will set a ballscreen and then slips to the left low block.
5 sets a ballscreen for 3.
3 attacks the top of the key.

3 passes the ball to 1 and cuts to the right wing.
5 dives to the right low block.
1 passes to 2 and cuts to the left corner.
4 sets a ballscreen for 2.
2 attacks the basket.
5 ducks into the post.

4 eBooks $35
(Click for more information about each)
ID 187 Chris Holtmann Playbook, Archie Miller Playbook, Ultimate Scoring Drills eBook, 2017 NCAA Tourney Plays
ID 27 Brad Stevens Butler Playbook, Packline Defense, Spurs Playbook, Attention to Detail eBook
ID 29 Louisville Playbook, Comprehensive Ball Screen Playbook, Fred Hoiberg Iowa State Playbook, Winning Special Situations
ID 65 Ultimate Horns Playbook, Versatile Swing Offense Playbook, Spread and Go Offense Playbook, 130 Ways to Improve Practice
Or, you can click here to create your own bundle of 2 eBooks for $25:
If you want me to put any 4 eBooks together for you, email me at [email protected] or call/text me at 765-366-9673