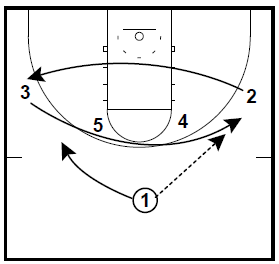 This ball screen play diagram is from the Coach Scott Peterman's Basketball Hoopscoop Florida Gator Playbook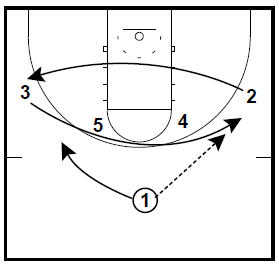 2 cuts to the left wing.
3 cuts over the top of 5 and 4 to the right side.
1 passes to 3 and slides over to the top left guard spot.
4 acts like he will set a ballscreen and then slips to the left low block.
5 sets a ballscreen for 3.
3 attacks the top of the key.

3 passes the ball to 1 and cuts to the right wing.
5 dives to the right low block.
1 passes to 2 and cuts to the left corner.
4 sets a ballscreen for 2.
2 attacks the basket.
5 ducks into the post.
If you are interested in adding to your Coaching Toolbox take look at what I believe is our best offer.

CLICK HERE to select from a list of more than 70 eBooks.