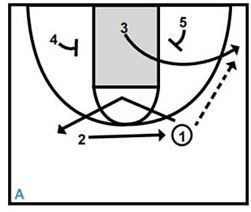 I found this play on the Xavier Men's Basketball Newsletter Site.
If you are interested in seeing their newsletter archives, here is the link: Xavier Men's Basketball Newsletter.
This play is designed to be run against a 2-3 zone defense.
It features more screening than many zone attacks utilize.
Two guard front is formed
1 passes to 3.
On the catch by 3, 1 and 2 interchange
5 and 4 are sealing or screening baseline or wing zone defenders
Also on the catch by 3 a two man game occurs between 4 and 5.
5 seeks out the next zone defender and seals.
4 comes under the goal to the ballside post or short corner area.
3 sees the action. The ball is quickly passed to 2 then 1.
4 again seals opposite or posts the backside zone defender.
5 is conslantty finding gaps or sealing defends
3 cuts in the high post area-which is atways an option
1 passes to 3.
On a catch in the high post by the baseline runner. 3. 1 and 2 fan out to beccome passing outlets.
4 arid 5 post for the ball
3 has passing options everywhere.