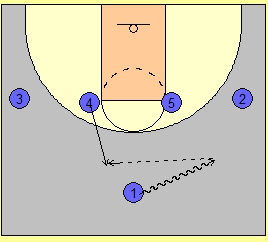 The diagrammed play below is run against a man to man defense.
I like to use the 1-4 high to start our sets for two reason:
1) It helps our players know that we are running a set
2) It makes it difficult to pressure the entry pass since there are 4 options
1 dribbles away from 4 as 4 pops to the deep elbow. 1 passes to 4
After passing to 4, 1 cuts off the backscreen from #5.
2 and 3 move toward the lane.
if 1 is open, 4 will pass to him/her, but that will not be open very often
4 passes to 5 as 1 and 2 are setting a staggered screen for 3. If 3 is open, 5 will make the pass
After passing to 5, 4 cuts to the block to screen for #1.
If 3 is not open, 2 will make the second cut off of the scrreen set for 3.
#1 cuts off the screen set by #4