Two plays run by Quin Snyder from Coach Scott Peterman's Utah Jazz playbook.
It is included in this week's eBook Bundle Special.
I am running the 4 Basketball Coaching eBooks sale.
(Click for more information about each)
ID 187 Chris Holtmann Playbook, Archie Miller Playbook, Ultimate Scoring Drills eBook, 2017 NCAA Tourney Plays
ID 27 Brad Stevens Butler Playbook, Packline Defense, Spurs Playbook, Attention to Detail eBook
ID 29 Louisville Playbook, Comprehensive Ball Screen Playbook, Fred Hoiberg Iowa State Playbook, Winning Special Situations
ID 65 Ultimate Horns Playbook, Versatile Swing Offense Playbook, Spread and Go Offense Playbook, 130 Ways to Improve Practice
Click here to your own bundle of 4 eBooks for $35:
If you want me to put any 4 eBooks together for you, email me at bwilliams@coachingtoolbox.net or call/text me at 765-366-9673.
These actions do not have to be run as is. Take these movements and am to them or implement parts of them in what you already run. Or, use them as a place to start your thinking about ways to enhance what you will be running next season.
Diagrams created with FastDraw
Horns Down Flex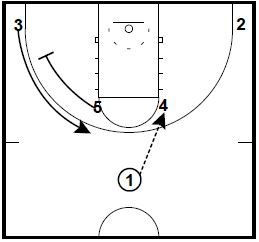 1 passes to 4
5 screens down for 3.
1 cuts into the lane to set a double cross screen for 5.
4 DHO with 3 and then follows into a down screen for 1.
Horns Pin DHO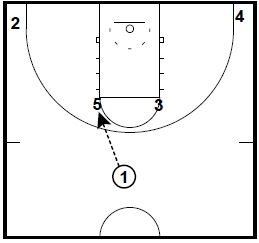 1 passes to 5.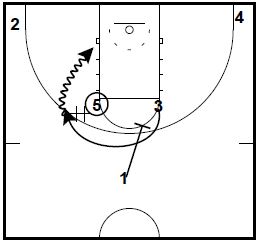 1 screens down for 3 who cuts around 5 for a hand off.
I am running the 4 Basketball Coaching eBooks sale.
(Click for more information about each)
ID 187 Chris Holtmann Playbook, Archie Miller Playbook, Ultimate Scoring Drills eBook, 2017 NCAA Tourney Plays
ID 27 Brad Stevens Butler Playbook, Packline Defense, Spurs Playbook, Attention to Detail eBook
ID 29 Louisville Playbook, Comprehensive Ball Screen Playbook, Fred Hoiberg Iowa State Playbook, Winning Special Situations
ID 65 Ultimate Horns Playbook, Versatile Swing Offense Playbook, Spread and Go Offense Playbook, 130 Ways to Improve Practice
Click here to your own bundle of 4 eBooks for $35:
If you want me to put any 4 eBooks together for you, email me at bwilliams@coachingtoolbox.net or call/text me at 765-366-9673